In-Store Services The Best Nerds Around
Convenient In-Store Services at Our Computer Repair Shop
Stop By & Leave Your Tech Troubles with Us
At NerdsToGo®, we make IT support easier than ever. We have convenient locations throughout the country and offer both in-home and in-store services. If you want to bring your device or system into our store, we invite you to stop by and chat with us about your technology problem.

We offer the following IT services and computer repairs:
Smartphone Service & Repair – Whether your phone won't sync or you cracked your screen, we have extensive experience with these devices.
Tablet Service & Repair – We're ready to fix tablets of all brands and sizes, from updating the software to replacing parts and beyond.
Fixing Slow Computers – If your system is slow to respond, skip the frustration and let our team take a look.
Data Backup & Recovery – Protect your photos, documents, and other files by backing them up. If you think you may have already lost data, our Nerds can help you recover it.
Virus Protection & Removal – We can help you stay protected against the latest viruses and rid your computers and devices of any current malware.
Unlocking Frozen Devices – If you're locked out of your device, our Nerds know all the ways to get you back in fast.
Parental Controls – NerdsToGo can install cybersecurity tools that will give you what you need to limit what your children can access on your computer or devices.
New Computer Purchase & Setup – If you're upgrading your technology, our Nerds can help you get everything set up so that it all works seamlessly.
Small Business IT Support – We offer reliable IT support services for small business owners so that they can focus on running their business.
Laptop Repairs – Bring us your laptop if you need screen repair, data recovery, or even if you just need general troubleshooting.
Please note: Services vary by location. Check with your local NerdsToGo to understand available services.
Computer Fixers with Parts & Tools at Our Fingertips
When you need a repair, you can count on NerdsToGo to always be ready to provide exactly what you're looking for. Our NerdLab is stocked with a wide variety of the parts and tools we need to fix computers and devices. Forget having to order and wait for parts – we're dedicated to getting your system running again as quickly as possible.
We also offer in-store service plans that we can customize to your needs. This plan will ensure your technology is always working optimally – and will save you money in the long run.
Can You Recover Data from a Damaged or Corrupted Hard Drive?
Yes. Our team has the software tools to restore or recover data from a corrupted drive. There are also many instances where we can recover data from a hard drive that has been physically damaged. We've dealt with all the common causes of hard drive issues from accidentally deleting system files, dropping a computer on the ground, or acquiring a destructive virus.
Can You Remove Viruses & Malware from My Computer?
If your computer has been infected with a virus, bringing it to have it looked at by professionals is one of the best things you can do. Our team have the tools and experience to effectively scan for and identify viruses or malware. We will also set you up with any anti-virus tools you may need and advice on best practices for keeping your system safe in the future.
Why Visit Our Computer Repair Store?
You may have several options when it comes to IT solutions and computer repair, but few offer all that we do at NerdsToGo. With us, you can rest assured your mac or PC repair is in great hands. We are committed to delivering outstanding customer service with all our IT services and computer repairs.
You should also choose NerdsToGo because:
Our in-store Nerds are trusted and bring their Nerd know-how to solve your problems
We support all mobile tech including laptops, smartphones, tablets, and more
Our Nerds love technology and they enjoy making it more efficient and effective for you
We are always upfront and honest with our pricing and never charge any surprise fees
Stop by your local NerdsToGo today! We are your one-stop computer repair shop for tech-related issues and IT support services!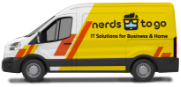 Small Business IT Experts

IT Consulting and Troubleshooting

Locally Owned and Operated

On-Site and Remote Support