Whether you're relocating to a larger building or downsizing to a more functional space, moving is never easy. For businesses – it's more complicated. Does this space work? It isn't just a question of style or square footage, it's also a matter of making sure your IT and technology services are set up to better support your employees and service your clients after the boxes are packed away.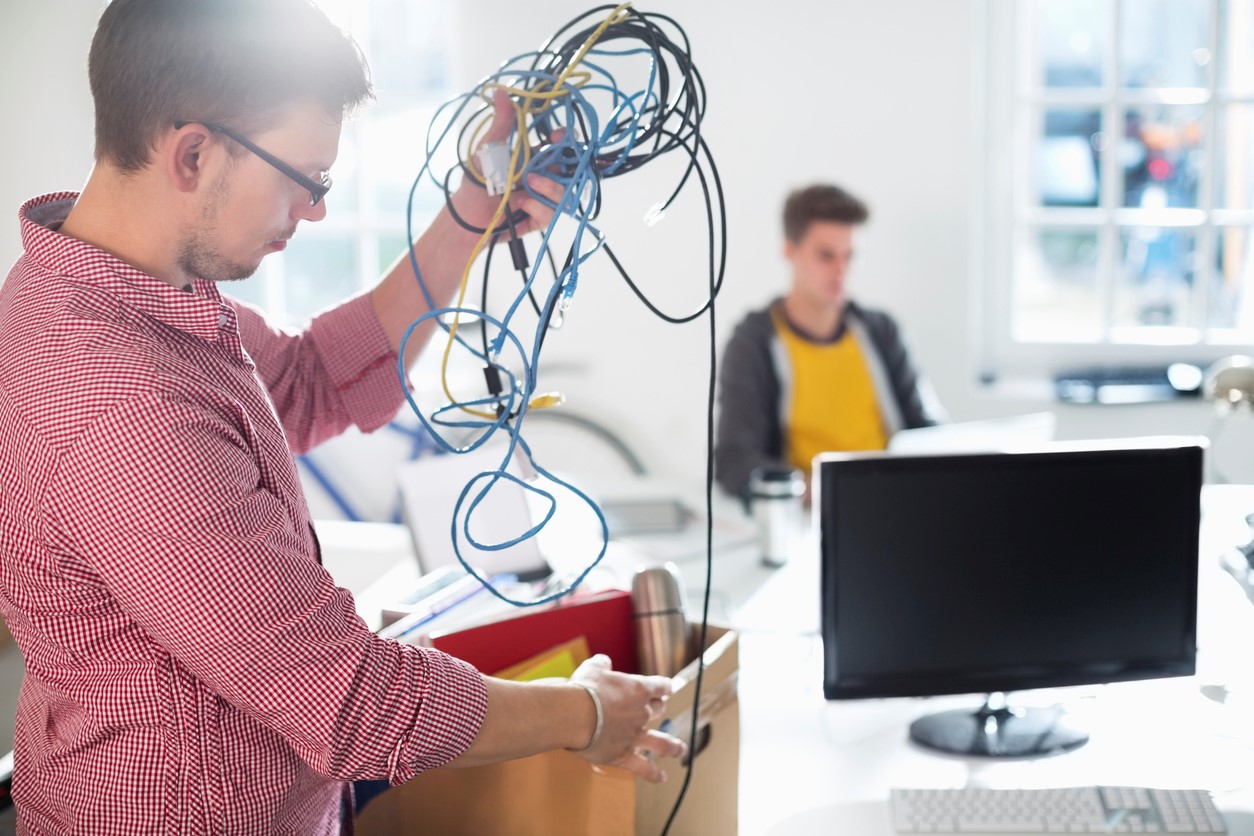 As the workforce readjusts to the post-pandemic economy, office moves are top of mind for business owners and employees. In fact, 1 out of 5 business leaders are expected to move in the next five years, according to a Crain's Chicago business report. For small businesses – those that employ 1 - 19 people – a disruptive move could mean lost productivity and unnecessary downtime. Small business owners and office managers can take away the stress of a big (or small) move with a plan of action.
Before you start moving and setting up your small business, here are a few important IT considerations to keep in mind.
A 5-step Checklist for Office IT Relocation
Take inventory: Make sure there's an inventory of all hardware, software and other critical network components. Also, assess what's still in good condition. Make sure to include any network diagrams or user guides to make the move uneventful. This could also be a perfect time to upgrade any computer hardware or laptops. While this sounds complicated, outsourcing this step to a qualified managed service IT provider can save you a lot of time and headaches.

VoIP installation: If your business has not transitioned to a Voice over Internet Protocol system, now may be the time. These numbers are highly portable, provide better voice quality and are more budget friendly. Instead of traditional landlines, users can move a fixed VoIP number with them and avoid unnecessary interruption.

Back up before you move out: Before you start packing, ask yourself: have we backed this data up? Backing up data – and having a data recovery plan if data is lost – will save time and money in the long run. This could be a really good time to look at migrating to cloud storage and upgrading your online security. These technical complexities can be managed by outsourcing with an IT solutions provider, who can create one solid plan of action.

Post relocation review: All moves – no matter how well planned – can have hiccups but for businesses, there's usually necessary training time so owners and employees can familiarize themselves with a new setting, perhaps new equipment and what, if any system upgrades, were installed at the time of the move. An expert IT solutions provider has the knowledge and expertise to do a training session to get employees up to speed.

Plan the work, work the plan: Remember to plan your move at a time that is least disruptive to your employees, your business and your customers. Make sure to map out exactly what will happen in what order – packing, assembly, testing – and stick to it. Your business can be up and running in no time.
Hire a Managed Service Provider for Help with Office & IT Relocation Services

Part of setting up a new small business network means making sure you have the right IT solutions partner and a managed service provider (MSP) can make the transition easier.
 
Consultation: To ensure all your future technology needs are met in the new move, planning ahead with your MSP can help you better understand your new technology requirements, current infrastructure so you are better prepared for the future.

Hardware and software procurement: Don't forget an MSP is more than just technical services – they can help your business get, source and procure reasonably priced necessary hardware and software for your new location.

Design and setup: A trusted MSP can also design and set up a new location's network infrastructure, including routers, switches, VoIP installation and make sure the network is secure, reliable and scalable to accommodate future growth.

Data migration and backup: An MSP can assist with migrating data from the old location to the new one, ensuring that all critical data is transferred securely and without loss.

Security and compliance: Your MSP can set up a robust backup and disaster recovery solution to protect your business data as well as implement firewalls, antivirus software and encryption technology to help meet compliance requirements.

System integration and support: Finally, an MSP can help integrate all the business's systems, such as servers, workstations, printers, and other peripherals, ensuring that everything works, and they can provide training to the business's employees on how to use the new technology and systems, as well as provide ongoing support to troubleshoot any issues that may arise.
Experience the Benefits of an IT Relocation Company like NerdsToGo
Moving is stressful. An expert IT solutions provider like NerdsToGo can make moving and relocating your business network a seamless experience by working with your business to plan ahead, minimizing downtime and taking advantage of the transition time to upgrade your security, transition to cloud services and improved network systems.
Remember, as your business grows and its technology needs evolve, a trusted MSP like NerdsToGo can help your business scale its IT infrastructure for future business success.